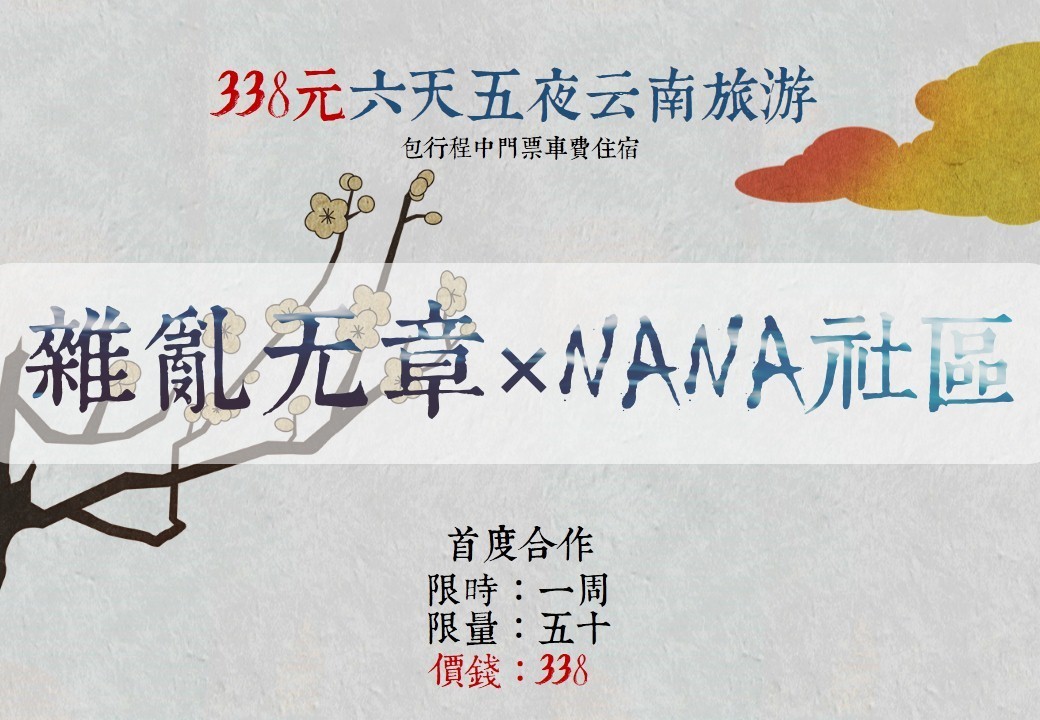 About the "six days and five nights in Yunnan" activity, Qroomamptera
Disorganized "nana × disorganized" go to Yunnan Wen /Zhang Jingshi together. Nonsense, nonsense, nonsense | hard work | interesting | surprise |

"Why is the ticket price so low?"

the main reasons for the low ticket prices are mainly two points:

one is the government subsidy, the sponsors bring tourists to the Yunnan government, and the Yunnan government subsidizes the sponsors. Consumers are the beneficiaries;

second, resource integration + business model = fully increases marginal interests (travel agencies, e-commerce companies and local governments integrate resources.

third, "disorganized" and "NANA" cooperate for the first time to launch "time-limited" and "limited" discount activities with limited number of votes.

"what does this ticket include?"

tourist ticket contains contents: the tourist ticket does not include the fare for the round trip to and from Kunming, and the round trip fare should be paid by yourself.

the tour ticket includes all the items received by local tour groups in Yunnan:




5 nights hotel accommodation + three meals a day + tour bus + tour guide + tickets to all scenic spots on the way + horseback riding, boat ride, cable car and so on.

"how are the accommodation conditions?"

1. Hotel accommodation: three-star hotel or equivalent inn, standard double room, some hotels are soft 4-star (we all think the accommodation is quite good, clean and tidy).

2. Menu: three meals a day is a group meal of 8 dishes and 1 soup, and several meals are Yunnan cuisine and buffet.

"will there be compulsory consumption at such a cheap fare?"

definitely, absolutely and definitely no mandatory consumption or hidden consumption.

1. Arrange shopping for three times, but whether you go shopping or not depends on yourself. There is absolutely no such thing as a tour guide who doesn't look and has a bad attitude without shopping. (the four of us who went together were all schoolgirls and hardly bought anything. The guide and we were all talking and laughing. The extra fee to be paid at the beginning: since we used to take the old road, now we usually take the highway to save time, so there will be a highway toll of 20 yuan; there is a dinner that needs to be solved on our own, because it is in the ancient town of Lijiang. Many snacks and other delicacies, so everyone can taste according to their own hobbies. Others do not have to pay a penny until Kunming leaves the tour (including all the tickets for food, accommodation, transportation, tour guides and scenic spots, including horseback riding, boat riding, cableway, etc.).

"is the security problem guaranteed? \ "

many students want to play with their girlfriends or friends, so it's natural to pay attention to safety. Since this ticket is with the group, you have to sign a contract with the travel agency on the first day you go to Kunming, and then start to pick it up. From then on, tourists have to follow the tour all the way. As long as they do not leave the group without authorization or do not listen to the advice of the tour guide, there will certainly be no safety problem. When signing this contract, you can also carefully read the contents of the contract of both parties.

Identification of genuine and fake tickets: the corresponding ticket number is printed on each travel ticket, and only when this ticket number is provided can you make an appointment;

Security: the local tour group will sign a security agreement with you and then start the trip.

Molding your beautiful curves in our stunning collection of elegant gowns in medium length for brides. Check out our dramatic silhouettes collections now!

\ "can I go at any time after buying a ticket?

the tour used to be sent on Tuesdays and Fridays, but since this ticket is selling well and there are so many people participating in the tour, it has become a daily tour since April this year. Friends who want to go only need to make an appointment with the customer service a week in advance, set a date, and then buy an air ticket or train ticket, and the customer service will arrange for someone to pick up at the airport or station, and then the trip to Yunnan can start smoothly.

\ "other considerations\"

1. Age limit: promissory note is applicable to healthy friends aged between 21 and 65. If you are under the age of 21 during the validity period, you will have to pay 600 yuan per person.

2. This ticket can be purchased and is suitable for tourists outside Yunnan Province, that is, except those from Yunnan, it can be resold or resold, and the ticket is non-refundable.

3. Travel time: this ticket is valid until July 31, 2017. During the validity period, you can go at any time you want. You can make an appointment one week in advance.